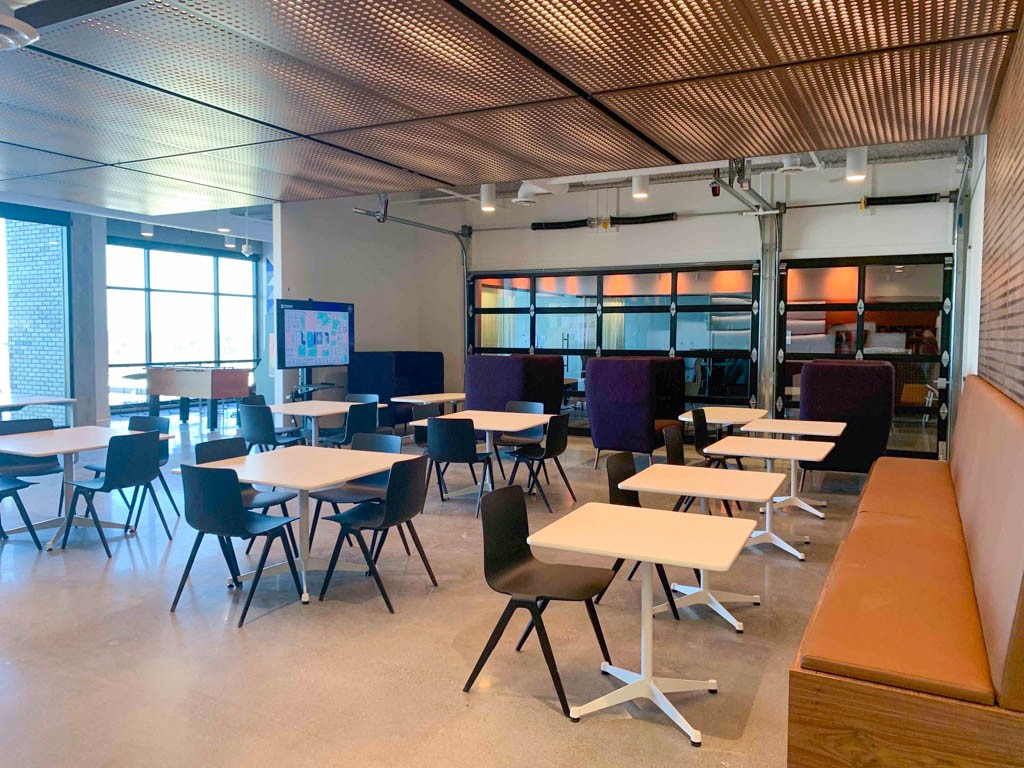 Radisson Hotel Group Custom Project & Millwork Fixtures
Radisson Hotel Group Americas needed a multipurpose space in their trendy new office location in the West End of St. Louis Park, Minnesota. To accomplish this Greiner Construction and Radisson partnered with SEG Systems to develop a venue that is not only beautiful but adaptable to their needs and serves both their employees and customers from day to night.
The café is one of the first areas you see right off the front lobby and was designed to be a fun gathering space with intentional decor elements. The design includes programmable lightbox panels made of walnut that cantilever over the room that can be customized to fit the mood. For example, brighter lighting settings would suit a work atmosphere during the day, while subtle lighting would enhance the aesthetic of a night event.
Our CNC Millwork department brought this custom fixture to life by transforming double-sided laminate panels into an engaging experience. Each of the suspended ceiling lightboxes has a front-facing perforated panel, that also matches the decorative partition wall. The unique design features 50,000 holes, drilled in a graduating pattern, that come together to make a wave illusion.
In addition to the ceiling and wall lighting/décor pieces and millwork fixtures in the café and lounge, SEG Systems was also responsible for the ceiling in the open collaboration area, and the ceiling lightbox in the elevator lobby.
In-house manufacturing
Custom displays, fixtures and lightboxes
Millwork
Metal Fabrication
Powder coating and finishing
Design, engineering, and installation