Displaying your MERCHANDISE is more than simply setting items on a shelf – well, if you're looking to build loyal customers, at least. Show off your products like never before by creating an immersive buying experience. Shelves, TVs, graphics? The list goes on.
At SEG Systems, we have three lines of merchandising systems to best suit our customers' needs. Whether you're looking to simply expose your products, engage your customers, or enhance your brand, we've got the line for you.
Check out our selection of gondolas, towers, and shelving systems. Unlike your typical gondolas, kiosks, and other merchandising systems, SEG Systems allows you to plaster your project with graphics. See something you like? Want to add more or switch it up? Our merchandising systems are like building an ice cream sundae. Pick your flavor, pick your toppings, and we'll create the perfect treat for your brand.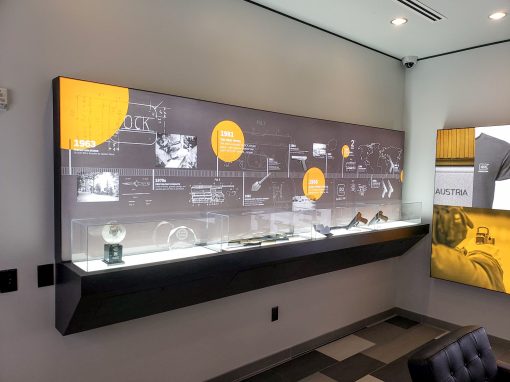 CONTACT US
Like what you see? Want to see more? It all starts with a conversation. When you reach out to SEG Systems you gain a trusted partner that also doubles as a one-stop-shop frames and displays manufacturer.
By submitting this form, you agree to receive e-mail and phone communication from SEG Systems.
You may unsubscribe at any time.
Fabric frame, fabric print, fabric lightbox, seg frame, seg print, seg graphic, seg lightbox, seg extrusion, freestanding lightbox, wall mounted lightbox, suspended lightbox, wholesale displays, seg fabric