Innovative Ways to Display Textures with seg fabric
Often when people think about texture, they associate it with the sense of touch.  However, the visual texture of an element is equally as important.  The consistency of a surface contrasting with that of another can be what makes or breaks a design. Appropriately balancing textures can evoke a mood, attract attention and encourage intimacy between a consumer and your product, setting your display apart from the rest.
Textures 101
Webster defines texture as, "the visual or tactile surface characteristics and appearance of something."  
Visual texture is the perceived surface quality of an object.  Using contrasting textures can enhance the visual appeal of a display, conveying meaning.  The use of wood or metal can give a display a more industrial look as opposed to the use of felt or vinyl. Tactile texture refers to the actual feel of a surface.  Using a surface that has a specific tactile texture can make an area of a display standout.  Tactile surfaces are most successful when used in contrast with a texture that is more visually focused.
Natural textures and Artificial textures have the same properties, but they were conceived in different ways.  Natural textures are from surfaces originating from nature, while artificial textures are man made. 
Nearly every texture can enhance a display when it is used under the right circumstances.  
Limitations
When designing a display, a natural look is what designers gravitate towards. 
Using real brick or metal in your display could perfectly convey that your company can build a house, but transporting and maneuvering multiple brick columns and different metals into a retailer or trade show just is not feasible due to many limiting factors. 
The cost to ship raw materials is enormous because of their weight.  Add that to having to hire a contractor to construct the display, resulting in your cost outweighing your impact.  You would also need to consider how you are going to maintain the display, preventing the surrounding area from becoming a mess.  All of this takes valuable time you could be spending networking with other business professionals or interacting with consumers. 
These are just some limitations that arise when raw materials are used and are often reasons a display is never fully realized.
Solutions
There are different ways designers and manufactures attempt to solve the problems that come with using raw materials.  Some use rigid, lightweight solutions such as foam, high density urethane or vinyl to cut down on costs.  The benefit of using materials like these instead of the raw material is their flexibility.  These materials are customizable and can be manipulated for many situations. 
The ability to print a texture on a surface allows for a material to be manipulated for a specific purpose.  Using programs like Adobe Photoshop and Adobe Illustrator, it has never been easier to emulate a texture with a graphic design alternative.  Colorizing a texture or adding text to a wall are things not achievable with raw materials but easily done in a graphical program. 
By watching a simple YouTube tutorial, anyone can design the texture they desire. 
This is where many printed solutions reach their limits.  Many rigid texture solutions still have to be installed by a professional and are limited to only one use per install for a specific situation. 
These situations are where it becomes clear that the versatility a SEG system offers is the solution designers have been looking for.
Silicone Edge Graphics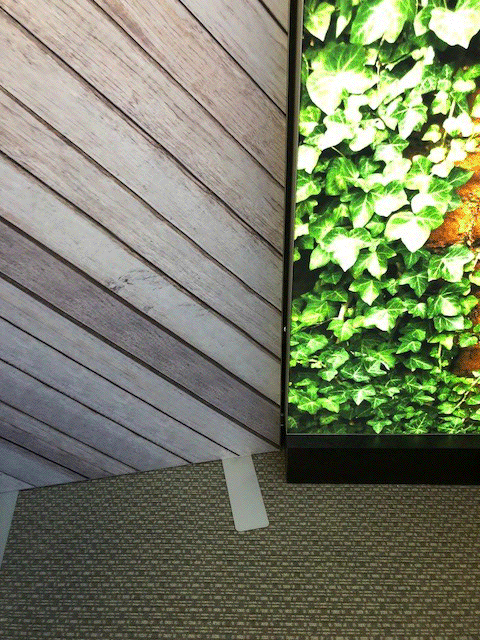 A silicone edge fabric graphic is the perfect medium for fooling the eye.  With SEG, printed textures perfectly emulate the real thing thanks to the soft natural texture of the fabric, meeting both visual and tactile texture desires. These fabric graphics can also be easily changed out of the SEG framing system and updated with a new look almost instantly.
These SEG Framing systems are lightweight aluminum extrusions that are easily assembled by one person with a single allen key.  This allows for compact shipping of large graphics that would typically require large, rigid boxes and require trained professionals to install. 
Make textures pop by using a SEG lightbox to illuminate the graphics, making it an even more eye catching display.
Create an Experience
The beauty of a SEG frame is the various extrusions available that allow you to create an experience using collapsible environments.  This solution is perfect for trade shows, exhibits, pop-ups and brand activations.
Textures standout the most when they are used to contrast another texture.  In the pictures below, the use of a SEG system to represent brick walls and columns, along with turf as the floor and a custom millwork archway, bring the outdoors indoors, contrasting each other to convey the desired message and build an experience.  Practicality is where graphic frames separate themselves from the pack.  
Another area where SEG systems work perfectly is in an office environment.  Whether it is as a cubical or a divider-wall, Silicone Edge Graphic systems are perfect for quick and easy installs that would normally take weeks to construct by traditional means.  The graphic frame divider-wall below currently in the SEG Headquarters, resembles the texture of wood paneling, while on the other side displaying the Marvel Avengers.  Being able to completely change the graphic and the story of your display by merely changing out the Silicone Edge Graphic, is a quality unique to a fabric display system but desirable by retailers universally. 
Things to Remember
A proper use of texture can completely transform any display.  The correct textures can evoke a mood not attainable with a sign on its own.  Raw materials and natural textures are desirable but not always practical due to limiting factors.  Silicone Edge Graphics are perfect for duplicating natural looks and are suitable for nearly any situation and location.  A lightweight, versatile, unique and cost effective alternative to heavy raw materials, a Silicone Edge Graphic is perfect for any display your brand is designing.