ABOUT SEG SYSTEMS
Where do we start? SEG offers a lot, but feel free to jump straight to your favorite topic if you just can't wait!
THE SEG
DIFFERENCE MISSION GOAL MOTTO
At SEG Systems, we're all about making the impossible possible.  We are not only a SEG frames, lightboxes and displays manufacturer, we offer you the ultimate customer experience.  We design, engineer, and build integrated solutions for your brand, event, trade show, retail space or office environment.  
The best part?  Our SEG frames are American Made and are completed from start to finish under one roof, all while maintaining environmentally sustainable practices and materials.  Whether it is a simple SEG frame, lightbox, display or custom creation, SEG Systems has your back when it comes to being on brand, on time, and on budget.
custom fixtures & displays
Your project is one-of-a-kind, and we're here for that. We have a select few "stock" fixtures, but they're all built to order and built just for you! Need to tweak the design? Want to start from scratch? Start with SEG Systems
acrylic
Acrylic comes in many shapes and sizes – and at SEG Systems, that includes laser etching and engraving. Need a simple display case? Need a laser-etched pedestal to highlight your products? We've got your back. Or your Acrylic.
metal fabrication
To create one-of-a-kind structures, fixtures, and lightbox accessories, SEG Systems uses their custom metal fabrication capabilities to plasma cut, weld, and grind aluminum and steel.
11 lighting solutions stocked
There are several factors that determine what type of lighting to use for the most optimal lightbox. Take a gander and see what lighting solution would best fit for your environment.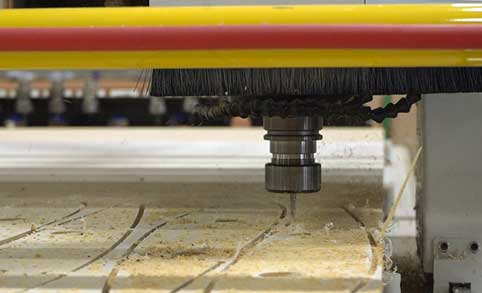 cnc machining
SEG Systems converts CAD models into reality using our CR Onsrud CNC machine. This machine allows for percision cutting for a wide range of materials including plastic, wood, foam, and composites.
3d printing
SEG Systems uses the latest 3D printing technology and is able to print prototypes of new extrusions, brackets, and accessories at a moment's notice.
77+ extrusions stocked
With over 77 proprietary extrusions in stock, we're sure to have one that will work for you. If not, we'll make one custom for your needs. That's how we've grown, after all!
metal bending
Think outside of the box. Fabric frames and lightboxes don't have to be square. We offer metal bending in order to create the perfect frame for your standards.
1,000+ finishes & paint
Pick a color, any color. But really. We PMS match our powder coat so that no part of your display strays from your brand's standards using our in-house paint booth.
millwork
Count on SEG Systems to create a millwork piece to integrate with the latest technology to create cabinetry, mannequin bases, and custom displays for your brand's new look.
SO HOW DOES SEG SYSTEMS WORK?
site survey
Designing a new space for your brand can be daunting. Need an extra set of eyes to make the visiona little bit more clear? Let's meet up. We love brainstorming.
engineering
The engineers at SE Systems ensure that every design is going to turn out seamlessly. No idea is too wild for these guys. Hit'em with your best shot!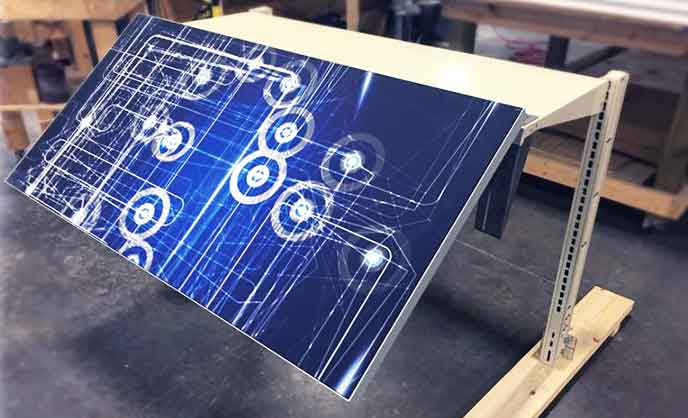 prototyping
Our Product Development team is constantly manufacturing and testing products in order to achieve a perfect prototype from which a complete system or product can be developed.
custom 3d renderings
So you've talked about ideas for your space, but are you ready to take the plunge. With the project renderings that SEG Systems creates, you'll quickly start to see your branding dreams come to life.
onsite install
Most of SEG Systems' aluminum frames are easily installed at an associate level, but if you need extra help, we're here for you. Just ask your Project Manager!
quality control
At SEG Systems, we take every possible step to ensure your project is perfect. Before your project ships out, it goes through a rigorous quality control process that includes assembly, power testing, and graphic fitting!
graphic design
The Graphics team at SEG ensures that every image or piece of text you send over for your silicone edge graphic is ready for print and will fit perfectly into your frame.
project management
Once your project goes into production, you'll be assigned a Project Manager. This person will be there for you and your company through the entire process and jump any hurdles along the way.
Want to get to know us better?
SEG Systems was formed on July 4, 2014, (we know what you're thinking – what an awesome birthday). With over 30 years of experience in the retail, construction, and print industries, Luis, Dori, and Reid came together because of their passion to fill the voids that existed in the display industry: innovation and service.
Simply put, our founders were tired of telling their customers 'no'. Along with other great companies like Amazon, Google, and Apple, it all started in a garage – Reid's garage, to be exact. To be fair, the garage thing only lasted about 43 hours. That still counts though, right?
With a mentality of making the impossible possible, business grew quickly. We were overcoming our customers' challenges by using our frames to create displays all while relying on a network of manufacturers to help get the job done. We were managing the process and crushing it… but who doesn't want to improve?
Quality, speed, and pricing were key concerns for our customers and we knew we had to take it upon ourselves to overcome these obstacles. Our next step would be to be to grow our in-house capabilities so that we could become a one-stop shop. We knew this would give our customers faster lead times and the best all-around experience. As our relationships grew and capabilities multiplied, our shop space did too. We consistently take on new manufacturing capabilities and it turns out that is the recipe to our success – at least so far.
Reality check: not everyone at SEG Systems is perfect at everything, but our secret ingredient is that when we all work together, we make one kickass team: a team made up of people who have fun while working hard and are always ready to give their all for our customers. We build great products, but we really win when we build great relationships because we've known all along that happy customers are the key to our success. With this passionate group of people, we have taken SEG frame technology from basic to extraordinary. We've come further than anyone (that's including ourselves) could have ever imagined.
Want to be a part of the family? The best way to get to know us is to come visit. We guarantee you will love our family. You'll get to meet our cool staff along with the office dogs. Plus, you'll get the chance to see the endless supply of products and solutions we offer. Every employee and puppy at SEG Systems has become part of the family and we aim for our customers to feel that same sense of inclusion.
seg systems: UL CERTIFIED MANUFACTURER
The engineering team or 'Nerd Herd' at SEG Systems are all certified to conduct the extensive tests required by UL to deem a product safe. Our in-house capability to test and apply a UL mark to all products set us apart from our competitors.
Worry less when you're guaranteed the best!